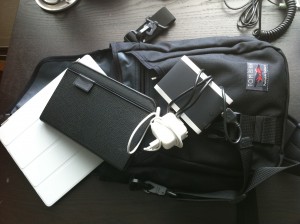 In a few days, I'll be hopping on a jet plane bound for Portland, Oregon for the World Domination Summit, hosted by my former cellmate, Chris Guillebeau. It'll be a weekend of non-stop fun and frolic and I'm really excited that I get to tag along. In order to balance the excitement about this little getaway, I'm going to bore you to tears by describing what I'm going to bring with me.
If you know me at all, you probably know that I'm something of a techie fellow. This would probably lead you to believe that I'll be bringing a computer with me so that I can do computery stuff while people are talking. Not exactly.
On this trip, I'll be sporting the following bits of tech, and no more:
iPhone 4 - The best damn mobile computer on the planet will be bouncing gently against my ample thigh during my journey. I plan to use it for general communication and shooting photos and video while in Portland.
Kindle 3 - In case I happen to get a few minutes with nothing to do (which seems unlikely) and so I can get some reading done while in the air, I'll have my preferred Portable Reading Device close at hand at all times.
iPad 2 - This will be my computer for the weekend. I picked it up a couple of weeks ago and have been using it like crazy, so is going to be my acid test. I don't know how much blogging, etc. I'll be doing, but whatever comes up, I'm going to attempt to bend this thing to fit the task.
Mophie Juice Pack Powerstation - Even with a million hours of battery life or whatever, there's a very good chance my iPhone and/or iPad will run out of juice before the party ends. This little guy is about the size of a small external hard drive and will hold enough juice to fully charge either of my beloved mobile devices (or partially charge both).
I'm toying with the idea of bringing a small bluetooth keyboard with me so I don't have to look at my iPad while I type (that's right, ladies - touch typist here *flex*), but am yet undecided on that front. It'd be nice to have, sure, but it'll be an awful lot of bulk to carry around for not a whole lot of potential use. We'll see.
Everything described above will be slung safely across my back in a Ristretto bag by the attractive folks at Tom Bihn. It's got plenty of room for all of my crap, but small enough that I could microwave it. It's a really, really sweet little bag and I expect more than a few fetching glances as I stroll around the avenues of Portland with it draped snugly across my tattooed back.
Oh, and tucked neatly in my back pocket will be my beloved Field Notes notebook and Pilot G-2 Mini ballpoint pen (right and left back pockets, respectively).
As I said, I'm pretty freaking excited about this trip. I'm going to get to shake hands with many people with whom I've only ever spoken to via Twitter and email. I'm especially looking forward to giving my old frield Leo a noogie that he won't soon forget. I'll probably buy him a beer afterward, though.
Disclosure: Tom Bihn sent me the bag for free in response to my asking for bag recommendations on Twitter.