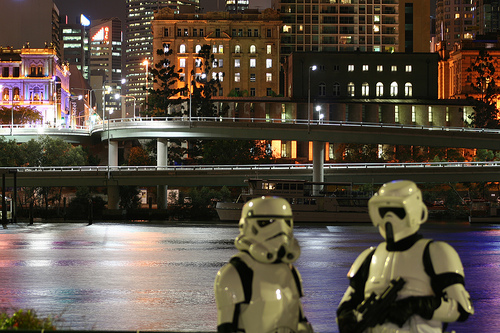 It's hard to spend more than a few minutes reading blogs centered around life improvement without stumbling onto a post describing how you can totally make a very comfortable living doing what you love (your "passion"), no matter what that thing is. Instead of grinding away at your soul-sucking day job at the accounting firm, you could pull down six figures if you only pursued your true passions of photographing slaughterhouses and playing competitive Parcheesi. Perhaps I'm jaded, but I think a good portion of what's said in this arena is, frankly, a huge load of crap.
First of all, let's take a closer look at the word "passion". The Dictionary application on my Mac offers this as the first definition:
strong and barely controllable emotion
Yes, there are other definitions, but this one is pretty telling about our misuse of this word. I have no problem with your really enjoying making candles or hand-sewing your own undergarments, but let's pump the brakes a bit before we start calling these things "passions."
I obviously can't say this for sure, but when I hear somebody talking about being passionate about composting, I don't think I'm being unreasonable in thinking that, maybe, they're overstating it a smidge. In recent years, people have gotten into the habit of using "passion" as a drop-in substitute for "thing I like doing on a Saturday afternoon while I have my Mint Julep." Passion implies (rather heavily) the idea of pants-on-head, might need a grown up diaper obsession, not enthusiastic enjoyment.
If you wake up in the middle of the night sweating bullets and thinking about turning your family's garbage into nutrient-rich dirt, then yes, perhaps you are passionate about composting. I'd be willing to bet that's true of almost nobody.
Now, before you pick up the knitting needles you whittled from used cafeteria trays (now available on Etsy!) and try to open up my throat, just hear me out. I'm not saying that it's impossible to earn a living doing something you really enjoy — clearly it's very possible to do that. Hell, I earn a living doing something I really enjoy. The thing is, it depends a great deal on what it is you enjoy. If you really enjoy reading 19th century Russian literature, eating pancakes and slamming Irish Car Bombs during sporting events, your time would probably be best spent looking into making the literature thing your source of income because -and this does make me a little sad- I've never been handed a business card by a professional pancake consumer.
In other words, for you to earn money doing something, there must necessarily exist a contingent of people who are willing to pay money to a person in exchange for doing (or teaching them how to do) that thing. It doesn't matter how awesome you are at accurately estimating the number of chocolate chips in a sealed bag from 20 yards away - it's unlikely you're going to find somebody to pay you to do that, even if the Internet has convinced you to call it a "passion."
Me? My "passions" are few: my family, my religion, and to a much lesser extent, writing and programming. The first two because, well, that's how I'm wired. The last two because I could chew on your ear for hours about either one and I feel noticeably out of balance if I avoid either for an extended period of time. The thought of stopping either one makes me uncomfortable.
Do I love coffee? Absolutely. Beer and scotch? Big time. Reading? You betcha. Are any of these things passions of mine? Not by a long shot.
If I really wanted to, I could probably come up with some clever ways to make money doing something related to coffee, for example. There are others that already do and I'm honestly happy for them. Trouble is, most people don't care about coffee as much as those people do — I know I don't.
So, the next time you download that free eBook on how to turn your passion into a bazillion dollars, remember that it's going to require two things: that you're actually, legitimately passionate about something and there exists a market of people who will be willing to give you their beer money in exchange for your angle on that thing.
And don't misunderstand me here - I'm not calling the "passion = dollars" people out or anything, but make sure that when anybody starts throwing around the word "passion", realize that their definition is in all likelihood, inflated and inaccurate. Before you spectacularly quit your job to go off and eat pancakes for a living, make sure you've really thought it through and that the money you hope to earn is actually out there in the pockets of people who are actually willing to give it.
Now, you yell at me.
Photo by leighmcmahon