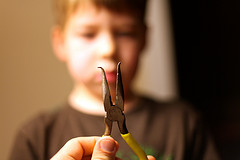 At our house, we have a set of plastic measuring cups. They look really cool - they collapse down to almost nothing when not in use, all that good stuff. Trouble is, we don't put plastics in the dishwasher, so I have to wash them by hand. Washing these things is a huge pain, particularly if they've been used to measure anything extremely granular (like flour). Half the time when I pick one of them up to wash it, a little voice in my head tells me to just toss it in the garbage because, while ostensibly useful, they're not worth the headache overall and there are *plenty* of other solutions out there that would be much easier. But, of course, these alternate tools aren't within arms reach when it's time to make the biscuits. Software is the same way: sometimes we'll use a tool that brings us nothing but pain and we know alternatives exist — we just don't take the time to find them and make them work because we don't fully realize how much they suck until we start using them for something that needs to be done right away.
We all have downtime while at work — why not spend that time investing in your toolbox a bit? Next time a meeting is canceled and you find yourself with a free hour, you might consider poking around inside the application where you spend most of your day (Word or Excel are probably common choices here). Look through the endless menus and look for ways to make job easier. If you find yourself clicking "Edit" then "Paste", consider using the keyboard shortcut that does exactly the same thing without forcing your to take your hand from the keyboard. If you're performing a common task like editing plain text (looking at you, developers) and you feel like the process should be streamlined, look at other text editors or learn some of the esoteric features of your current editor. Sure, you'll lose a bit of productive time pursuing such things, but if it can benefit you over the long haul, isn't it worth a couple hours of your time to gain, say, a 10-15% performance increase?
Have you taken the time to fully explore the capabilities of your tools? Which of your tools do you either a) wish did more or b) simply hate? What alternatives exist? How could they be better?
Photo by bionicteaching