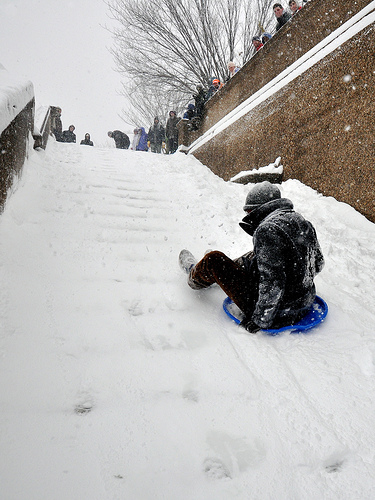 About a year ago, I bought my first Kindle from Amazon—the Kindle 3 with 3G, for those keeping score—and I love it. I use it almost every day and it's fantastic. According to MG Siegler (who I think is awesome, for the record), the upcoming Kindle Tablet is going to have the following features:
Color Touch Screen
Media Playback (music, video) and Deep Integration with Amazon Services
WiFi Only (at launch, anyway — a 3G-capable model is likely at some point in the future)
Battery Life Commensurate with other Tablets (10 hours or so per charge)
Let's look at how each one of these is going to seriously undermine both the current Kindle market as well as the Kindle brand as a whole (because I really think it will do both):
Color Touch Screen
Having a touch screen means a couple of things:
It's going to be substantially heavier since the screen will now be made of glass.
It's entirely likely that turning pages on the Kindle Tablet will be similar to scrolling through a long article on the iPad (not sure about this one, but it's certainly possible given Amazon's relatively spotty track record with regard to user interface design).
The first one is a really big deal. A big part of why I love my Kindle 3—and I'm sure I'm not alone in this—is how light it is (6 oz.). Adding a glass screen and the necessary components within the device to drive a touch screen are going to eliminate this benefit in a big freaking hurry. Most of my Kindle reading is done while I walk and the reason I'm able to comfortably read while walking is because the Kindle weighs something on the order of a regular paperback book. Bonus negative points for removing the argument that the Kindle can be read in bright sunlight — not so with a capacitive touch screen, Fred.
So, we're looking at a (substantially, I'm guessing) heavier device that can no longer be held comfortably in one hand for long periods of time and will now be just as vulernable to glare as any other tablet on the market. Off to a good start here.
Media Playback and Amazon Services Integration
One of the largest selling points for the previous three generations of Kindle has been the ease with which you can get new content. Buying books from Amazon on the Kindle is extremely easy and convenient, no doubt about it. But when you start allowing me to also download movies from Amazon Instant Video or Amazon Unbox or Amazon Whatever-The-Hell as well as giving me access to the whole catalog of digital music Amazon sells, you've widened the scope of the device beyond simply reading books (another of my chief plusses for the Kindle: it's just for reading). Now you're talking about a media consumption device that is sitting precariously between the current Kindle offering and something like the iPad; it's going to be a red-headed stepchild in the tablet space because of the lack of apps (presumably — and even if they do offer access to Amazon's app store, it'll still feel like a cheap jab at the App Store for iOS) and book reading folks like me will bemoan it's increased weight and other functionality polluting the pure reading experience.
WiFi Only
This won't be a big headache for some, but I've downloaded several books using my Kindle's 3G connection and would be seriously bummed if I didn't have it. I don't think I'm the only person who would find the lack of 3G to be annoying and inconvenient.
Battery Life
This is big. My Kindle can go almost a month on a single charge and I almost never think about charging it until I notice the battery is mostly or fully discharged. It's comfortable knowing that, by and large, whenever I pick up my Kindle, it'll be ready to rock. It's even nicer knowing that if I leave it alone for a few days, the battery will drain very, very slowly. I don't read on a terribly regular schedule, so remembering to plug my Kindle Tablet in every couple of days would kinda suck.
So, just to recap: the Kindle Tablet is going to be heavier, feature additional distractions (music, movies, possibly apps), not initially provide 3G connectivity and the battery will be a small fraction of that of the previous generation. Many of these new features, in my mind, go a long way in undermining what makes the Kindle 3 so freaking awesome: it's light, it's for reading things and the battery lasts for an incredibly long time.
I don't mean to be a big whiney white guy here, but this sounds like a pretty meh product. I'm curious to see how it fares in the market—the Nook Color is doing fairly well, from what I understand—but I have a hard time believing that it's going to enjoy the same success as the Kindle 3 and heaven help Amazon if this new device means the end of the e-ink Kindle.
Photo by M.V. Jantzen