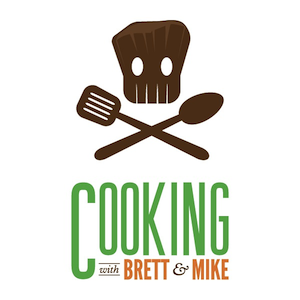 That's right — lock up your daughters because Internet heartthrob Myke Hurley and I have started a brand new podcast.
It's called Cooking with Brett and Myke and it might just be the best damn thing to ever happen in the history of media. Or it could just be fun. Either way, it's (naturally) a part of the growing 70Decibels podcast network that Jay Z sings about, so you know it's got that certain flavor.
I encourage you to give a listen and let me know what you think. If you dig it (or even if you don't), please consider dropping by the show page in iTunes and leaving a rating and/or a review. And don't forget to follow the show's official Twitter account for all sorts of trickery, tomfoolery and jibber-jabber!
I'm really excited about this. Myke and I have been throwing this idea around for almost a year now and I'm really happy with how it's turning out. Hope you guys like it, too. You can grab the podcast feed in iTunes, Instacast for iOS or vanilla RSS.