New to Evernote? Tens of thousands of people have used Evernote Essentials to get up and running with Evernote quickly. Grab your copy today, have Evernote working for you by tonight.
Click here to learn more (you know you want to…)
I love Evernote. You probably do, too. Heck, why wouldn't you? Evernote is freakin' awesome. If it's worth keeping, it's in Evernote — that's my motto.
I also like to quickly capture ideas, thoughts and other stuff when I'm out and about. My iPhone is quite adept at letting me do just that thanks to Drafts, one of my favorite iOS apps ever. Seriously, if you have an iPhone (or an iPad) and you take any kind of notes and you're not using Drafts, you've made a critical error. But that's another rant for another time.
With Drafts 3.0 (which is out today[1], by the way), I can quickly append/prepend to my Evernote notes without leaving Drafts. I can't tell you how happy this makes me and I'm going to show you how it works.
But first, a little context.
Despite my quickly-approaching 35th birthday, I've recently discovered a new hobby generally reserved for a much younger set…
Comic books.
Heaven help me, but I'm really getting into comic books. I'll concede that it's a trifle unorthodox for a married 30-something with two kids and a job to be only now discovering comic books, but boy howdy, I dig 'em and I couldn't possibly be less sorry.
One of the many challenges that faces a newfound comic enthusiast—beside constant chiding from friends and (cough) spouses—is keeping track of the myriad books I want to check out. Enter the torrid affair that is Evernote + Drafts. Sitting in a tree, those two.
I have a note in Evernote called "Comics to Read." You might have such a note in your account as well. Or maybe you don't. Whatever, don't judge me.
When I hear of a new comic—generally on a podcast or from a friend—I have a super snazzy way of quickly capturing it so I don't forget to buy a copy and annoy my wife in a single step.
I open my iPhone (or iPad) and launch Drafts. I type the name of the comic, then I browse to the action called "Add to Comics List" and tap the crap out of that little bit of awesome. In a couple of seconds, the comic is appended to the end of my "Comics to Read" note.
I'm getting goosebumps just thinking about it.
NB: Maybe comics aren't your thing. I understand, certainly. Imagine a list you keep in Evernote as you read the following and you'll see the glorious utility available to you.
The Setup
This isn't hard to set up, but it takes a couple of steps.
First, create a note in Evernote that represents your list of comics (or plants or whiskies or whatever it is you're into). Remember the name of the note and the notebook it lives in.
Next, launch Drafts 3.0[1]. Tap the little "do stuff" button as indicated here: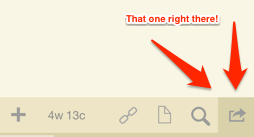 Drafts front screent
Click the little gear icon, then scroll down to "Evernote Actions." Click that handsome thing and you'll have a nice little + icon at the top left to add a new action. Click that equally handsome thing and you'll be greeted with the following screen: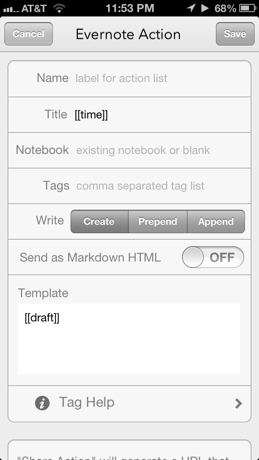 Don't be afraid — this is easy. Fill in the fields according to the following handy guide:
Name will be what shows up in the action list within Drafts. This can be whatever you want. I chose "Add to Comics List", if that helps.
Title needs to be the exact name of the note you want to prepend/append to in Evernote. Go double check that you have it right. I'll wait here.
Notebook is the notebook where the above note lives. This is also important to get right, so don't screw it up. Also, I chose "Archive", since that's where my note lives.
Tags need to be the same as the ones applied to the existing note. Pro tip: leave this blank to save a small hunk of your sanity because that's what I did.
For Write, tap whichever option you want. Know that "Create" will create a new note instead of modifying an existing now. I chose "Append" here.
You can leave Send as Markdown HTML alone since it probably doesn't matter unless you know what Markdown is. In that case, you'll know what to do.
Template can be both easy and hard, honestly. The easy way is to leave it as-is and it will prepend/append your text to the note as expected. If you want to get fancy, click the "Template Help" link and go to town.
Here's how my comics thingie looks, for reference:
The Execution
Now, when I hear about a new comic I want to read, I just type the name into Drafts and choose the "Add to Comics List" action:
Then, lickety-split, it's in my list of comics to buy:
And I never left Drafts. Tell me that's not cool. I dare you.
The Point
As I said, Drafts is my go-to app for quick capture of, well, anything. It works with tons of apps on iOS, so even if Evernote isn't your bag (shame on you), there are oodles of places where you can send your text and have something magical happen when you do. A few other quick examples:
Send a tweet
Post to Facebook
Create a new note in Dropbox
Send a task to OmniFocus
Send an email
Send an iMessage
The list goes on.
And, in case you're wondering, it's just as easy to capture stuff into new Evernote notes, too.
This app is indispensable to me. You should probably go ahead and buy it already [1].
This post contains affiliate links. This means that if you click them and buy something, I'll earn a small commission. I've also placed non-affiliate links immediately after all affiliate links, so choose whichever one makes you more comfortable. Know that any affiliate product I recommend is something I personal purchased, use and love enough to tell you about.