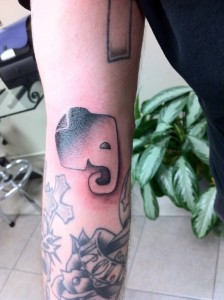 Yep, I got an Evernote tattoo. That's it, right up there. Naturally, many of you will think I'm batshit insane for doing this, but I'm going to try to explain. This will delve a bit into my philosophy about tattoos in general and will be rather expository regarding the business side of this little blog, but I think that's a big chunk of what's interesting about the whole thing.
I've been an extremely heavy Evernote user since I first caught wind of it back when it was in private beta in 2008. Once I learned what it did and how it worked, I knew that it was going to become an integral part of my technological existence. After spending a little over 18 months abusing the shit out of Evernote, figuring out everything it could do and everything I could make it do beyond that, I decided that it was time to step things up a bit. I wrote a book.
As you may or not know, I wrote and sell an ebook about Evernote. The ebook was a product of my being a very heavy Evernote user coupled with, speaking honestly, a desire to change my family's financial situation. I wrote it over the first three months of 2010 and hung out my shingle in July — six months ago, almost to the day as I write this. To say that it changed my family's life would be an understatement, I think. Without getting into specific numbers, I'll say that the ebook has sold *very* well. But, I'd be remiss if I didn't mention the other big change brought about by the ebook.
In May of 2010, I started working at Evernote. I love it because I get to do my two favorite things: writing code and writing English. My job there can be attributed directly to the ebook (about which I consulted with Evernote during the production process). And I work from my house, eat lunch with my family every day and have a 10 second commute. There's another huge bulging benefit of being a big Evernote dork.
Lots of people think tattoos should only be things that are "always" — they want anything indelibly marked on their bodies to be things that describe them as people and definitely not transitive stuff. I disagree. While most of my tattoos deal with things that will always be true about me (family, religion, etc.), I'm a big believer in tattoos as memories, things that meant a great deal to me at a given point in my life — but not necessarily forever.
So, that's why I got the elephant (courtesy of my insanely talented brother). Given the amount of change in my life over the last year that I owe it, I think it deserves a couple square inches of meat. Don't you?