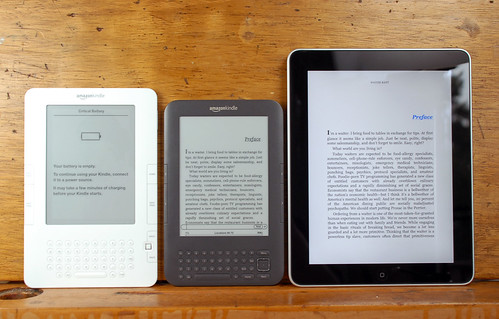 ?I've had an iPad for a few months now and I think it's really cool. Having tried to use it for many different types of things (some of which didn't work out so well), its primary functions in my life are reading and using Omnifocus (fine, and the occasional game of Fruit Ninja - thank me later). Reading on it is very nice, but it didn't take long before I realized that it wasn't suitable for reading in the same way as a physical book, and for a variety of reasons. So, being a gadget nerd, I bought a Kindle which arrived this afternoon. After spending a couple of hours with it, most of my suspicions that it would positively trounce the iPad as a reading device have been confirmed. Now, in convenient list form, are said suspicions.
It would be delightfully lighter than the iPad - I knew this before I'd even held it — the iPad, for all its glory, is difficult to negotiate when you're trying to read. The WiFi iPad that I have weighs 24 ounces, while the Kindle weighs eight ounces. Disregarding that my physical fitness level could be adequately described as "doughy", holding the iPad up at eye level as I would a book was a non-starter; after a few minutes, my arm would get tired and, even after shifting the thing back and forth between my arms, I would be sufficiently distracted by arm fatigue that really engaging with what I was reading was effectively out of the question. On the other hand, I've spent the last hour holding the Kindle up "book-style" and I've barely noticed it. Suspicion #1 = Confirmed.
I wouldn't feel encumbered by a touch screen - This is something that Marco pointed out not too long ago (I swear I had the same thought before I read his post!), but all of the reading apps that I've tried on the iPad support a whole myriad of touch gestures, which means that the entire screen would do something when you touched it, anywhere. Naturally, this means that, in order to read a full page of text without interacting with the app, you have to keep your mitts off the screen and hold the iPad by the edge, which is just north of 3/4" wide. The Kindle, as you probably know, doesn't have a touch screen, so I can partially rest my thumb on it without worrying about turning the page or anything else. It also has a big ass keyboard area at the bottom with buttons that you any normal person isn't likely to press accidentally, so you've got oodles of room down there by which to grip it. Suspicion #2 = Confirmed.
I would enjoy and appreciate it's singular purpose - My biggest problem with reading on the iPad is my own distractibility. If I become even the least bit disinterested in what I'm reading, there are a ton of other things that I could do with exactly the same device that were only a couple of taps away (Twitter, Reeder and frickin' Fruit Ninja, to name a few). The iPad simply provided my dumb ass too many ways to defer what I was reading until after I'd done something else. The Kindle, by contrast, is for reading. That's it. When I pick up my Kindle, I'm doing so because it's time to read. Since I've only had it for a few hours, I've already noticed myself reaching for a button that would show my screenfuls of apps I could putz around with — and I was thrilled to death when I realized that there was no such button. Suspicion #3 = Freaking Confirmed.
I noticed something else a few minutes ago that made me smile — there's no clock on the Kindle. I realize that this is a small thing and, really, there wouldn't be much reason to include one. But, as per the Getting Started guide that opened when I first powered up the Kindle, one of it's goals as a device is to disappear — to let you become fully engrossed in whatever you're reading. There's a reason you'll never see a clock on a casino wall, and I think the same principle applies here. The idea that I'll lose track of time while using this thing is attractive to me.
I know that a great many folks think that the iPad is a "Kindle killer" (ugh, always with the killing), but I can say pretty confidently that the Kindle is going to fill a void that the iPad couldn't effectively fill: a light, small device whose single, express purpose is reading, not everything.
If you're anything like me and you like to read, but your discretionary time seems to inexplicably get chewed up by other computer-ish things, the Kindle might be the cherry cough syrup.
Thoughts?
Photo by Andy Ihnatko