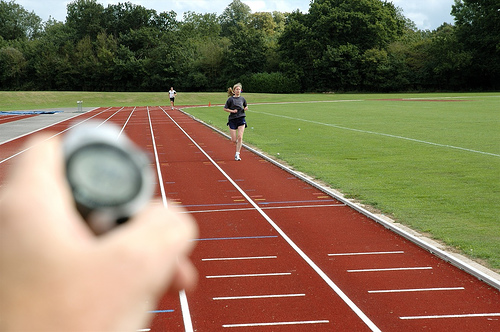 Seriously, guys. There's no excuse not to have your Tumblr or Posterous blog live at a custom domain. It costs like $10 a year for the name and the hosting is free. Also, it's very, very simple to set up. It's so simple, in fact, that I'm going to show you how to do it in like 10 minutes. Think of it as an incentive to take this whole blogging thing seriously.
Here we go.
Registering Your Domain Name
Head over to GoDaddy.com and click the "Express Buy" link just below the text field next to the huge pretty lady:
Type the domain name you want at the top of the box that appears:
Click "Search" and you'll end up looking at this (assuming the name you chose is available):
Click "Proceed to Checkout". Note that this method will allow you to bypass the Fry's-style gauntlet of "value-adds" and such like and head straight to the screen where you click "I'm Ready to Process My Freaking Order" or whatever. (NB: This guide assumes you have an account with GoDaddy. If you don't, you'll have to create one.)
A few things to note about this screen:
Before you go any further, head over to RetailMeNot.com and see if there are any valid coupon codes for GoDaddy.com. Hint: I've registered a hojillion domain names and I can't recall ever not finding a coupon code there. Grab a good code, click "Enter Promo or Source Code" and plug it into the box that appears, then click "Apply". Also, you should make it a habit of checking RetailMeNot before you buy *anything* online.
The default domain name registration period is two years. If you'd like it to be one year (which I'd recommend since it's entirely possible this thing will be a distant memory a year from now), then change it.
There are a whole pantload of other checkboxes and such that you can putz around with, but almost all of them will end up costing you money. For best results, click "Continue to Checkout". If you don't already have a GoDaddy account, you'll be able to create one on the next page.
Make sure all of your payment info is correct and click "Place Order Now" (make sure to check the little box that gives GoDaddy legal dibs on your first born and such):
Sweet nectar, your domain name is registered. That was so easy, right?
Pick a Platform. Any Platform.
Now, you need to decide whether this thing is going to live at Posterous or Tumblr. Yes, you can use custom domains at WordPress.com and Blogger, but the former costs money and I don't have the first damn clue how to make Blogger's ancient ass do anything this sophisticated. So, it's Tumblr or Posterous. Picked one? Good.
One more thing before we leave GoDaddy: we need to change our new domain's A record to point to the service you decided on a second ago. This sounds much scarier than it is.
On GoDaddy.com, click the big "My Account" link at the top right. Once you arrive at the next page, look for the "Domain Manager" link on the left and click the crap out of that thing. You'll then be taken to GoDaddy's (you guessed it) Domain Management section. You'll be looking at a list containing one (or more) domains. Find the one you just registered and click it:
On the next screen (which will probably scare the living hell out of you), look for the "DNS Manager" section at the bottom and click "Launch":
Once you click that, you'll be staring at yet another screen full of scary, scary business. It's alright. Look near the top for the row where the Host value is the at symbol (@):
Now, click the anywhere in that row and you'll be able to edit the IP address under "Points to":
Remember earlier when I asked you to decide between Posterous and Tumblr? I hope you remembered because we're ready to make it official.
If you chose Tumblr, paste this into the "Points to" field: 72.32.231.8
If you chose Posterous, paste this into the "Points to" field:  66.216.125.32
Click "Save Zone File" at the top right and you're done with GoDaddy:
The Last Step
We've got our domain name and we've pointed it at our favorite blogging service. All that's left is to tell said blogging service what we did and that it's going to be using a custom domain. Thankfully, this is very easy.
Tumblr
Once you've created your new Tumblr blog, click "Customize". On the customization screen that comes up, click the "Info" link at the top, check the box at the bottom that says "Use a custom domain name" and plug in the domain you just bought:
Click "Save and Close" at the top right corner of the screen and have a beer because you're done.
Posterous
Head over to the Posterous management section (after you've logged in, of course). Create a new Posterous site with the link on the right. Once that's done, click the "Settings" button, then click the big Edit button in the Name Your Site section:
Now, look for the custom domain setup area:
Click the "Setup my domain" link and a text field will appear. Plug in your new domain name and click "Save Settings":
Don't look now, but you're finished!
I know we kinda flew through some of those options a bit, but trust me - to get this working, you don't really need to understand how all that other crap works.
Enjoy your new blog :)
For anybody who hung in there long enough to read this beast, I have a little proposition to make: in the comments below, tell me what kind of blog you'd like to start and what you'd write/post about. My favorite submission gets a year of domain registration on me. I'm really curious to see what people would like to blog about but aren't yet.
(And, yes, I totally bought PlumageOfPain.com as I wrote this post.)
Photo by Drift Words