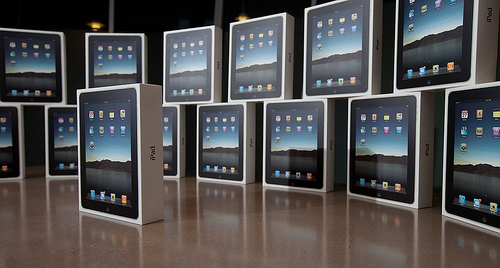 I've finally figured out why composing blog posts on the iPad is such a problem for me (and, doubtlessly others). It's not that you type necessarily slower or that it's difficult to reference external sources because of the "unitasking" nature of iOS. Both of these are indeed problems, but aren't insurmountable. No, in my opinion, the true Achilles' heel of writing and publishing Internet crap on the iPad is this:
Your post is almost never finished and ready to publish using only the iPad. At least, none of mine ever are.
Virtually all of my blog posts include two elements that are huge pains in the ass to add using the iPad: images and hyperlinks. Assuming I'm using the WordPress app for iOS (which is ridiculous, frankly, but go with me), I'd theoretically be able to upload an image and attach it to a blog post, but I'd have virtually zero control over where it was placed, let alone applying custom CSS attributes to it, like float and margin and such. If I'm using a regular text-editing app (I use Evernote, others prefer Simplenote or some Dropbox-backed app like Elements or PlainText), then I'm relegated to typing raw HTML for links, images and the like. I'm perfectly competent with HTML, but typing all of that stuff by hand on a keyboard that isn't friendly to such input makes it a big, stinky non-starter.
My typical blogging workflow when using the iPad (which is rare in itself) looks like this:
Create a new note in my "Post Drafts" notebook in Evernote.
Briefly outline and draft 95% of the body of the post.
Save and sync the note
Open the note on my iMac, copy the text into MarsEdit.
Add links and other basic styling as necessary.
Find a suitable Creative Commons licensed image using ViewFinder, add relevant HTML to the post.
Publish the post as a draft to WordPress.
Preview the post, make any additional formatting changes necessary.
Schedule the post to be published on a future date.
Clearly, the iPad exits this recipe before the curtain falls on the first act. Admittedly, most of the writing itself takes place on the iPad, but there are a great many subsequent steps for which the iPad is, put kindly, ill-suited.
The big nerds reading this have probably begun formulating their retorts and I'm guessing most of you have already plunged your Cheeto-dusted fingertips into your Mountain Dew-soaked burrito holes so you can type "Markdown!!!1″ without soiling your Hacker Keyboards. Simmer down, my neckbearded friends, as I've considered this and find the argument to lack real merit. Reason being, Markdown — while saving you from having to type a pantload of angle brackets and non-English strings, you're still signing on to type lots and lots of punctuation and paying a great deal of attention to spacing and line breaks. Remember, I'm not saying any of this is impossible, just that it's prohibitively cumbersome and difficult. Pursuing this route is inserting a clunky obstacle in your way when your tools should be extensions of your hand and appropriately fade into the background.
Also, I realize that not everybody blogs the same way I do. Some people just plunk out a few paragraphs of text and hit "Publish" and don't feel the need to add links, images or other such things to their posts. But, if you take into account the degree to which the aforementioned iOS WordPress app sucks and couple it with the inability to manipulate the metadata (tags, categories, etc.) of a post in any other apps, then even the simpler blogging types are looking at a decidedly "bubble gum and bailing wire" solution.
Don't misunderstand what I'm saying here - you could, technically, compose a freaking Rails app (in source code form) on your iPad if you were feeling particularly masochistic — but why on earth would you do that to yourself?
Photo by Kominyetska