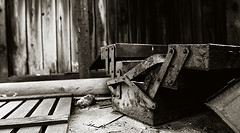 Now that Evernote Essentials has shipped and the dust is starting to settle, I thought I'd spend a little time talking about how, exactly, it went from an idea to a completed project. Many different applications were instrumental in the production, sales and fulfillment processes and I wanted to outline exactly how I did it and what I used. Cool? Cool.
Brainstorming and Drafting
Believe it or not, the vast majority of the writing for Evernote Essentials was done, in fact, in Evernote. My requirements weren't terribly stringent; I need to be able to write mostly plain text, occasionally add some basic styling (bold, italics, etc.) and have the ability to work on it from both my office at work on my lunch break and at home in the evenings. The idea of schlepping a USB drive around with the only copy of my work on it was quickly dismissed in favor of Evernote. The only potential drawback to using Evernote for this was the lack of real versioning of the files, which would give me the ability to revert to any previous version if I needed to. Evernote hadn't yet released the "Note History" feature, but even that doesn't create new versions every time a note is changed. This was something I was willing to forgo, as I was only in the beginning stages of writing it and was more concerned with getting my ideas down "on paper", so to speak, than I was with creating a full-blown Development Environment for my frickin' ebook.
Evernote was also where I would save screenshots, miscellaneous notes and ideas and any other odds and ends that were related to the project. Portability, again, was the primary reason for this.
Review, Editing and Collaboration
Once I had what I felt was a solid first draft of Evernote Essentials, I was going to need to recruit some friends. I needed people other than myself to read it for things like mechanics, spelling, continuity and, of course, technical accuracy. For this, I used the Writeboard facilities within Basecamp. I'd been using Basecamp for many other projects at that point, so it wasn't any big deal to dump each chapter into it's own Writeboard and start inviting friends to read it. Not only did it make sharing simple, but I now had proper versioning for each chapter, so I could easily roll back any change that was made by any of my intrepid proofreaders. My only complaint with Writeboard was the manner in which it exported the text; when I opted for a plain text export, I got a file full of forcibly-wrapped lines that I had to go through and fix individually. This was definitely an annoyance, but hardly a reason to not recommend Basecamp for similar projects.
After all of my buddies had taken a crack at the text and it was time to put together something resembling a final draft, I migrated each Writeboard into a single, massive document on Google Docs. I had, by this point, amassed a rather large number of screenshots that were to be included in the final product and Google Docs made adding them a snap. This document would ultimately be what was sent to my unstoppably talented designer for the final layout.
Selling and Fulfillment
The sales page for the book lives on the very same domain that is serving these words to you. It's powered masterfully by Tumblr, a choice I've already defended once before and won't belabor here, but there are a couple of other services that handle actual selling and delivery of the product.
E-junkie.com is a service I'd heard about from several of my friends who also sell ebooks. Essentially, you pay a flat rate, upload your digital wares, set the price and other details about said digital wares and they give you the HTML for a button to put on your site so people can buy your crap. Seriously, it's not much more complicated than that. When somebody buys your product, they send you an email with the buyer's information as well as the details of the transaction (if they used a coupon code, what currency was used, etc.). They also send the buyer an email containing a link where they can download the thing they just bought. You can create coupon codes, single-use links for free product and even affiliate programs (stay tuned, those of you asking about that). It's very slick and, frankly, I can't see how they make any money with how little they're charging me.
PayPal is where the cheddar ultimately ends up. Just about everybody is familiar with the oft-vilified-but-incredibly-ubiquitous kings of online purchasing — a few people have actually emailed to tell me that they would love to buy my book but refused to use PayPal — but the setup and maintenance couldn't be simpler. They take a small cut of each transaction automatically and the rest of the cash is available for me immediately after the transaction completes. Horror stories aside, PayPal has been great so far.
Tracking
I wanted to be able to keep tabs on the site and traffic the day the book launched. Google Analytics is nice and all, but doesn't refresh their analytics data for 24 hours and I wanted the real-time scoop. A friend of mine recommended Clicky and after about 30 seconds of watching it work, I was hooked. Clicky lets you watch visitors on your site and what they're doing in real-time, shows you from whence they came, even what country they're browsing from and with which browser/OS combination. They also have a slimmed-down iPhone interface, which came in handy while I was up in San Francisco and not necessarily in front of a computer. Best $30/year I've ever spent.
It was an interesting process, certainly. I'm sure that every other ebook author on the planet has their own special set of tools and techniques for creating their work, but these worked pretty well for my first pass at this. My next project will probably require a bit more in the text-editing department, so Evernote may be supplanted as the primary writing platform in favor of something more specialized. Other than that, there wasn't much about this project that felt sluggish or inhibiting. We'll see how I feel after the next book, though. :)
Photo by dkspook