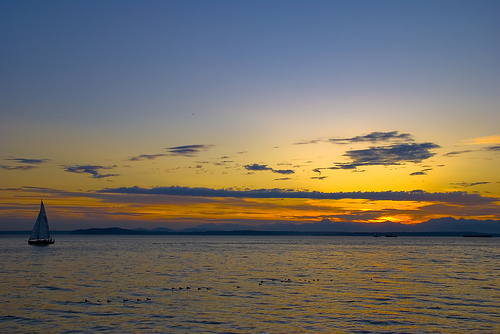 My "Blogging Tip of the Day" toilet paper said I should write something about what's happened this year and what I'm looking forward to in the coming year. Not wanting to deviate from the prescription, I give you this. Included as a bonus is the above inspirational photo.
2010, Briefly
To say that this year was huge would be grossly inaccurate; this year, everything changed. I got a great new gig at a company I've been all nerdgay for since like 2008. I wrote an ebook for which thousands of people have forked out their hard-earned cheddar. My wife was able to stop working and become the full-time Mom she's wanted to be since our oldest was born. Debt-free, happy, healthy and making massive strides toward the simple, slow-paced lifestyle we want for our family.
All of this is due, in no small part, to the support and kindness of you awesome people. From the bottom of my heart - thank you.
2011, Verbosely
In the interest of inventing a bit of accountability for myself outside my own head and OmniFocus, a quick list of my plans and goals for 2011. Naturally, all of these are subject to change and I'll probably poop more than one of these metaphorical beds, but some good might come of it, too. Maybe. Anyway, my goals for 2011…
Read More - I'm talking primarily about books here, but also blogs and other non-print media that happens to capture my interest. On a related note, I'm going to ruthlessly cull my already short list of subscribed blogs and online magazines. Truth is, I click "Mark All as Read" a whole lot more often than I should and there are probably much better ways to spend my time than to repeatedly skim the same list of blog posts for the tenth time.
Say 'no' to  (Almost) Frickin' Everything - As it stands right now, I'm way, way overbooked. Between my day job at Evernote, my small handful of freelance programming clients, this blog and the ebook, I'm kinda swamped. What makes this especially hard is the fountain of ideas that found its way into my head when I wasn't looking. That's going to change, due largely to the next goal:
Quit Dicking Around - For a guy who so vehemently espouses productivity, efficiency and all that, I do more than my fair share of screwing off. I'll be taking measures to ensure that slows way down and is relegated to its appropriate time and place.
Write More - Since I started this blog back in July, I've tried to maintain a fixed posting schedule (twice per week). It's worked out fairly well thus fair, but I want to do more. I watch the way guys like Brogan churn out interesting stuff five frickin' days per week and I know I'm capable of more than I'm doing now. No promises on this front, but I'm thoroughly convinced that doing well at this is about showing up and swinging the freaking bat. Whether it's here or elsewhere, I want to make the clackety noise a great deal more this year.
Build Something - Programming is still my first love. I've got a buttload of ideas, several of which I think are pretty alright, and I'm going to try like hell to make surest least one of them sees the light of day before 2011 clocks out a year from now.
Make Meaningful Connections - I've made a lot of friends on this Internet thing over the years and I'm grateful for all of them. I want more. So much of what makes this stuff worthwhile is people helping people succeed, get noticed for doing epic shit and passing the love on to those who would come after them. I've gotten more that my fair share of help along the way and I'm going to make other people and their work a focus of mine this year.
Miscellaneous - Other goals for this year in no particular order: lose some weight, stop being so self-deprecating, delight the shit out of my kids as frequently as possible, give my saintly wife the tenth anniversary she so richly deserves, attend at least one conference and address a group of strangers at least once.
That's all for now. Here's to another year of positively wrecking shit.
See you on the other side, friends.
Photo by mason bryant