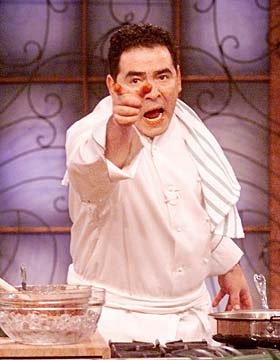 Experts are fun to watch. People travel great distances to watch a famous golfer whack the crap out of the ball with what seems like surgical precision because, well, it's entertaining and inspiring to see somebody do something that they're really freaking good at.
I'm reminded of a famous butcher who I just made up that prefers to use an antique letter opener or something because he's decided that it does a better job than the traditional blade used by most butchers. Eddie prefers to use OmniFocus as his notetaking app because he's found it to fit better into his workflow than, say, Evernote.
After watching the hypothetical butcher turn a whole elk into a delicious meat plate using his letter opener, you might be tempted to run out and get yourself a letter opener. Eddie's notetaking workflow might get you so worked up that you want to immediately adopt his methods as your own.
Don't. At least, not yet.
These people don't create or work in a vaccuum. They bring different experiences, skills and even different types of work to the table. Eddie and I have very different jobs. The butcher doesn't even exist. You see where I'm going with this.
You're not the same person as Eddie, the fake butcher or even I. None of us share exactly the same background or the same potential hiccups in our workflows.
It's fine that you want to be Eddie, but you need to know why Eddie does what he does, not just how.
It's not uncommon for beginning programmers to come up against a problem or implementation with which they're not familiar and go searching the web for example code that does what they're trying to do. It's also not uncommon for said programmers to copy a chunk of code they find on some blog into their project and clumsily bang on it until it stops breaking, but without ever really understanding why the code actually works.
The CEO of IBM might love using crayons and cocktail napkins to take notes during board meetings. Until you know why he likes to work this way, suppress the urge to go buy a box of Crayolas.
The theory is the important thing. Learn why your favorite badass does what (s)he does, then intelligently incorporate that practice into your own work if it makes sense.
Don't just buy the letter opener because my pretend butcher makes it look easy.
Photo by Lord Mariser